Control barking dogs safely and humanely with our automatic indoor/ outdoor bark trainer. Lentek® Bark Free trains your dog or new puppy not to bark. Bark Free is also being used to control barking of neighbors' dogs or stray dogs.
How & Why BarkFree Works
No, not another bark control collar!! Bark Free doesn't attach to the dog and "SHOCK". Bark Free sits on the counter or mounts outdoors. Lentek Bark Free® is a humane and effective way to help cure your pets behavioral problems.
When placing near the neighbor's or your own dog, Bark Free is designed to turn on automatically when barking occurs. Bark Free uses unique "Bark Pickup Sensitivity Adjustment Selector" which allows the user to set the microphone to activate to the dog's bark. This reduces the chance of any false sound readings and automatically turns off when barking stops. To determine the best sound frequency for preventing barking, Bark Free also has a specially designed "Audible Sound Selector". The selector can be used for high ultra-sonic sound frequencies, which can only be heard by your dog, or lower sound tones that is also audible to the human ear.
Bark Free's sound sensor activates when it hears barking and shuts off when the barking stops.
Bark Free uses twin dual speakers that emit two proven-effective frequencies: ultrasonic sounds and lower sonic sound tones.
Bark free is effective indoors or outdoors.
Bark Free is a humane and safe product that was developed by veterinary technicians.
Specifications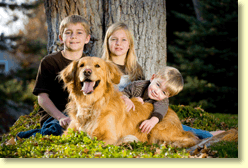 Bark Free is designed for all breeds and sizes of dogs
Coverage: up to 8 meters (25 feet)
Easy to use with LED Status Indicators
Audible Test Button
Wall Mount Bracket
Weather proof design
Specially Designed Bark Pickup Sensitivity Adjustment Selector
Audible and Ultrasonic Frequency Sound Settings
6V DC Power adaptor included
UL approved power supply, CE listed
16 meters (50 feet) Power Extension Cord included
Weight: 2 pounds
Applications
Lentek® Bark Free PRO is used for barking problems in homes, yards, kennels and others.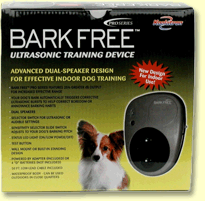 It safely and humanely helps to
stop barking neighbors dogs
eliminate barking problems in multiple dog homes
solve persistent barking problems
train puppies not to bark
Frequently Asked Questions
Where should I mount the Bark Free?
The best place to locate the Bark Free system is slightly above and facing the dogs. The Bark Free can be mounted or placed free standing in a desirable location. If using indoors, place Bark Free in a room where the dog is often known to bark. If installed outdoors, Bark Free may be triggered by loud sounds other than barking. Try to avoid mounting in damp and high wind areas.
Is the Bark Free unit weather resistant?
Bark Free is weather resistant, but not waterproof. It is protected against rain, sprinkler systems, and other sources of water. BarkFree is resistant to heat, cold, and ultraviolet light. The bracket includes mounting slots and screws for fastening unit to a tree or post.
Will Bark free eliminate all barking?
There are no 100% perfect cures that stop 100% of the barking, this includes the Bark Free. Within a few days, if you haven't noticed a significant reduction in the overall amount of barking, then you have a more serious problem than just simple unnecessary nuisance and boredom barking. Some of the more severe problems include:
Protective Barking: They may bark at trespassers or neighbors that tease or threaten them.
Hearing Problems: Deaf dogs will not react to Bark Free. Dogs with high frequency hearing damage may react to the audible setting.
High Stress Environments: Bark Free is not recommended for boarding kennels, animal shelters and grooming salons. These locations generate protective and fear barking.
Package includes
1x Lentek Bark Free
Wall mounting bracket
Product Manual
240V AC Power Adaptor
Downloads

Manual