Netting is one of the most effective bird proofing solutions. Nets keep pest birds off fruit trees in vineyards, orchards, gardens and more. Bird nets are also widely used to exclude birds from buildings, warehouses, sheds and others.
How It Works
Bird netting seals off all structural openings and other havens for roosting pest birds. The tough, nearly invisible bird netting barrier keeps pigeons, starlings, blackbirds, sparrows and other pest birds out once and for all. Netting is also the ideal protection for vineyards, orchards and other agricultural environments. It creates bird-proof enclosures that allow all of the light and moisture to reach your crops.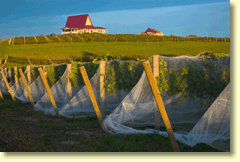 Specifications
Strong and durable.
UV stabilized.
Noiseless.
Easy to install.
Applications
Protect Fruit Trees, Crops, Vineyards, Building Eves, Sheds, Warehouses, Airfield Hangars and more.
Downloads

Product Information