Chase pest birds away with our Giant Scare Eye visual bird chaser. Scary eyes and a moving tail strike fear and repel unwanted birds. Available in yellow, white, black or as 3-pack (one of each color).
How It Works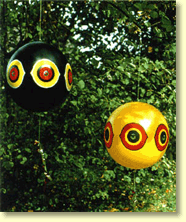 The Giant Scare Eye bird chaser will scare away flocks of nuisance birds who are repelled by its bright color and unusual design. Our Giant Scare Eyes come in three colours: yellow, white and black. Research shows that maximum effectiveness is obtained by rotating colours.
Specifications
Hanging vinyl ball with reflective Mylar "eyes" and reflective "tail".
Available in three colors: yellow, white and black.
50cm diameter.
Applications
Scare Eye is perfect for Barns, Gardens, Homes, Boats, Sheds, Fields & Orchards, Trees and anywhere else where there is a pest bird infestation. For best results move Scare eyes periodically and use all three colors.
Downloads

Product Information
Please note: All bird control solutions prove more effective when different methods are used in combination. EasyTek offers the widest selection of environmentally-friendly, non-lethal bird proofing and animal control solutions in New Zealand. We cater to most bird pest situations and offer our clients tailor-made bird control and bird proofing solutions with guaranteed results.

Please contact us to describe your bird pest situation and let one of our professionals suggest effective solutions for you.