Laser beams are well-documented to chase away pest birds. The beam seeks out their roosting-spots, alarming and confusing them, and they flee. This technological breakthrough makes current hand-held, labor-intensive lasers obsolete - and opens up this proven method of bird control for general industrial use.
How Bird Blazer PRO Works
The Bird Blazer Laser Bird Repeller uses a Class 3R diode "fat beam" laser featuring strong 10 milliwatt (mW) green beams. The beams create 45 different patterns occurring in random order.
This new unit also features a sensor module for fully automatic operation. After an initial set up, the laser device will automatically operate at night and protect vacated buildings from bird pests. The laser remains off during day time allowing staff to safely enter and work inside the premises.
Specifications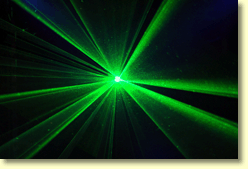 POWERFUL GREEN LASER. 10 mW of fat-beam laser power. The green laser light has been shown as the most disruptive to birds.
WORKS DAY AND NIGHT. Laser beams constantly change pattern and location to prevent acclimation
EASY OPERATION. Remote control for ease of operation. Security keys to maintain control.
LARGE COVERAGE. Maximum range 1000 feet/ 300 meters in the dark. The coverage area is up to 10000 square feet/ 929 square meters.
SAFE OPERATION. Bird-X Bird Blazer is a state-of-the-art consumer-safe device.
QUICK START BIRD CONTROL. Bird Blazer comes with six-foot power cord, 2 keys, remote control, mounting hardware (consisting of hanging bracket, 2 clamp levers and 2 washers) and an instruction manual.
Applications
The Bird Blazer is designed to act as an important aid in chasing birds from their infestations in plants, warehouses, loading docks, railroad sidings, tunnels, breezeways, underpasses and storage sheds. Other locations include: hangars, silos, barns, stadiums, arenas, boat houses and bell towers.
Package includes
Bird Blazer (Bird Laser unit)
Sensor Module
Remote Control
Mounting Hardware
Product Manual
Bird control information pack
Video (45 sec.; 1.4MB)
Please note: All bird control solutions prove more effective when different methods are used in combination. EasyTek offers the widest selection of environmentally-friendly, non-lethal bird proofing and animal control solutions in New Zealand. We cater to most bird pest situations and offer our clients tailor-made bird control and bird proofing solutions with guaranteed results.

Please contact us to describe your bird pest situation and let one of our professionals suggest effective solutions for you.