The new Super Quadblaster SQB-4 is a full-featured ultrasonic pest control system that targets stubborn infestations with a "Silent to Humans" audio attack. This automated sound system uses four speakers to emit high frequency sound waves and audio signals. The integrated LED strobe light and the sounds quickly drive pests away from the effective area of up to 6,500 square feet (605 square meters).
How Super Quadblaster S-QB4 Works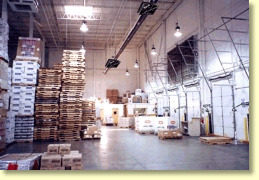 The Super Quadblaster S-QB4 is an ultrasonic sound generator that is equipped with several features to enhance its effectiveness and ability to provide both immediate and long term control. The Super QB-4 is an electronic oscillator tuned between 22 and 30 khz, beyond the range of human hearing, but perfectly audible to many pests. The intense ultrasonic sound is measured at 112 dB, nearly equivalent to a jet airliner taking off.
What makes the Super QB-4 different from the original QB-4 is the addition of an automated strobe light designed to attack the visual senses of birds. This visual attack, in addition to the noises, provide a one-two punch that drives many pest animals away.
Specifications
360 DEGREE COVERAGE: Sounds are emitted from four built-in speakers and surround the area with ultrasonic sound waves. The effective coverage area is up to 6,500 square feet (approximately 605 square meters).
VISUAL ATTACK: The LED strobe light add on attacks birds' sight.
ENVIRONMENTALLY FRIENDLY. Does not harm the pest animal or humans.
ACCESSORIES. Remote extension speakers. For unusual space configurations or areas divided by walls, use up to four remote speakers to stretch sound farther.
Applications
The Bird-x Super Quadblaster S-QB4 is an important aid in routing birds and other animal pests from their infestations in enclosed areas such as plants, warehouses and storage sheds.
Package includes
Super QuadBlaster SQB-4 (includes control unit with four speakers)
LED Strobe Light
Mounting hardware
240V AC adaptor
Product Manual
Accessories (not included)
Remote extension speakers
Downloads

Product Information

User Manual

Accessories List (optional)
Please note: All bird control solutions prove more effective when different methods are used in combination. EasyTek offers the widest selection of environmentally-friendly, non-lethal bird proofing and animal control solutions in New Zealand. We cater to most bird pest situations and offer our clients tailor-made bird control and bird proofing solutions with guaranteed results.

Please contact us to describe your bird pest situation and let one of our professionals suggest effective solutions for you.