Control bird pests in the most stubborn situations with a programmable ultrasonic and sonic bird repeller. Bird-x Broadband Pro's unique combination of harassments creates a menacing environment that scares bird pests away.
How Broadband Pro Works
Broadband Pro targets pest birds with an unrelenting combination of species-specific alarm and distress cries, bird predator sounds, general harassments, and newest-technology ultrasonic waves. Customized sound chips can be made depending on the bird problem.
Species-specific alarm/ distress cries indicate danger and help to create a "No go" zone!
Predator and proven harrasment sounds provide an added menace.
Customize by choosing volume, sound mode and hours of operation.
Integrated day/ night sensor and random operation modes allow easy configuration and fully automatic operation.
Specifications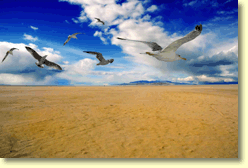 EFFECTIVE. Combines realistic alarm/ distress cries, predator cries, sound harassments and ultrasonic sound.
Alarm/ distress cries. Create a "danger zone" with realistic bird alarm/ distress cries to repel Starlings, Gulls, Pigeons and more.
Predator cries. 3 Predator cries add terror and realism.
Sound harassments. 3 Harassments are an extra incentive to leave.
Ultrasonic sound. Powerful ultrasonic sound rounds out the sound attack.
HARMLESS. BroadBand Pro's sounds chase the birds away without harming them.
HEAVY-DUTY "surround sound". Separate control box plus four powerful directional speakers (each with 100 feet of wire) offer greatest all-around flexibility. Control unit and speakers are fully weatherproof.
FULLY AUTOMATIC. Day/ night sensor and random operation modes provide fully automatic operation.
FLEXIBLE. Customized sound chips can be fitted depending on the bird pest.
EASY OPERATION. AC power adaptor included.
Applications
Bird-X Broadband Pro protects signs, towers, roofs, awnings, antennas, sheds, warehouses, hangars, power stations, outdoor stadiums, manufacturing facilities, waste facilities and many more.
Package includes
Bird-X BroadBand Pro (Control unit and four weatherproof speakers)
Audio cables
Mounting bracket and screws
Product Manual
Bird control information pack
240V AC Power adaptor
Accessories (not included)
Extension speakers for indoor or outdoor use
Custom sound chips
12V DC marine battery
Battery clips
Solar power panel
Downloads
Please note: All bird control solutions prove more effective when different methods are used in combination. EasyTek offers the widest selection of environmentally-friendly, non-lethal bird proofing and animal control solutions in New Zealand. We cater to most bird pest situations and offer our clients tailor-made bird control and bird proofing solutions with guaranteed results.

Please contact us to describe your bird pest situation and let one of our professionals suggest effective solutions for you.