Repel pigeons, sparrows, starlings, swallows, blackbirds and other bird pests with our fully automatic bird strobe light.
How Bird Lite PRO Works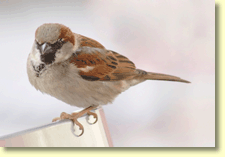 The Bird Lite Auto PRO produces intimidating, intense white, red and blue light flashes that are intolerable and disorienting to birds causing them to fly away from the source of annoyance.
The integrated sensor module controls the light's operation. The light turns on automatically when it is most effective; and switches off when it is not required or its operation is not desired. This is useful in buildings where staff are inside during the day but the area is vacated at night. The Bird Lite Auto PRO operates fully automatic at night time and remains off during the day.
Specifications
INTIMIDATING. Bird Lite's intense white, red and blue light flashes at 75 times per minute creating an intimidating and frightening environment.
BRIGHT. 1 million candlepower light pulses (and the frightening shadows they create) are disorienting and intolerable to birds.
ENVIRONMENTALLY FRIENDLY. Does not harm the environment or the birds.
POWER SAVER. Turns off automatically in daylight and when people are in the vicinity.
EASY INSTALLATION. Simply install the hardware, connect to mains power and program the sensor.
Applications
The Bird Lite Auto PRO has been proven a very effective bird deterrent with pigeons, sparrows, starlings, swallows, blackbirds and many more. It is used for bird infestations in plants, warehouses, storage sheds, barns, hangars, boat houses, tunnels, underpasses and more.
Package includes
Bird Strobe Lite Auto PRO
Sensor Module
Product Manual
Bird control information pack
Please note: All bird control solutions prove more effective when different methods are used in combination. EasyTek offers the widest selection of environmentally-friendly, non-lethal bird proofing and animal control solutions in New Zealand. We cater to most bird pest situations and offer our clients tailor-made bird control and bird proofing solutions with guaranteed results.

Please contact us to describe your bird pest situation and let one of our professionals suggest effective solutions for you.