Victor Fly Bait refills for Victor Fly Magnet Traps M380, M382 and M502. This bait works in all fly traps including non-Victor traps.
Specifications
The Victor Fly Bait is a non-toxic bait mix ideal for Victor Fly Magnet traps M380, M382 and M502. The highly effective fly bait works in all fly traps including non-Victor traps. Each pack contains 3x 12 grams refills.
A single pack M383 fly bait pack contains
Applications
Front and Backyards
Gardens and Garages
Around pools and camp sites
Food establishments
Attics and Rooftops
Other commercial facilities like cafes, warehouses and more
Simply place the fly trap in areas where flies are present - light colored outdoor walls, warm sunny areas, stables or food processing areas.
Frequently Asked Questions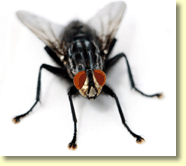 Can I use the Outdoor Fly Bait in the house?
Although the Victor Fly Bait is safe to use inside, the attractant has a strong, unpleasant scent (attractive to flies, but not to people), making it best suited for fly control in open environments.
The trap has been working well, but now it's almost empty – Why?
The trap may have caught most of the flies in the area. It's not unusually for a trap to out-catch nearby flies, controlling the local infestation.
Downloads

Victor Fly Magnet Comparison