Scare birds away with a dynamic, realistic, visual predator!
How It Works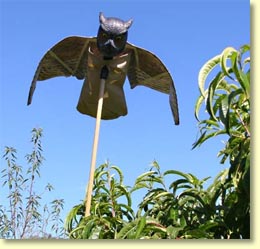 The Prowler Owl® decoy resembles the ultimate, most-feared aerial predator. In nature, the owl catches and eats almost anything that moves. Birds instinctually avoid the Prowler Owl®. Don't be fooled by imitations that just sit there! Our owl decoy sets up anywhere - the breeze and its natural appearance do the rest.
Specifications
LIFE-SIZE. 4ft wing span.
MOUNTABLE. Installs anywhere, simply place neck on a ½" diameter pole.
LONGE RANGE EFFECTIVENESS. If birds can see it they will avoid it.
PATENTED TECHNOLOGY. Unique airfoil technology.
DYNAMIC MOVEMENT. Always moving in the wind.
HEAVY DUTY MATERIALS. Head is hard resin plastic, body is strong-weave iron hide fabric supported by woven flexible cables and riveted plastic struts.
Applications
Pests: birds (pigeons, sparrows, starlings, crows, blackbirds, seagulls, swallows and other birds), small animals (rodents, rabbits and more)
Uses: parks, gardens, yards, fields, rooftops, golf courses, marinas, trees, other open areas
Recommendations
PROWLER OWL can be used alone or in combination with electronic acoustic devices or chemical repellents.
SYNERGY (combining types of scares) is always the most effective approach to pest bird control.
To protect Prowler OWL from damage do not use in gusty or strong winds.
Please note: All bird control solutions prove more effective when different methods are used in combination. EasyTek offers the widest selection of environmentally-friendly, non-lethal bird proofing and animal control solutions in New Zealand. We cater to most bird pest situations and offer our clients tailor-made bird control and bird proofing solutions with guaranteed results.

Please contact us to describe your bird pest situation and let one of our professionals suggest effective solutions for you.