How & Why it Works
The fly trap attracts flying insects with a strong UV light and captures them with a black, sticky glueboard.

The process is very simple, with no electric buzzing when insects are captured and without any insect explosion, which can occur with electronic fly zappers.

It has a slim design and will provide protection for areas up to 80m².

The unit has a high quality, durable metal construction and 3 way mounting. It can be wall mounted, ceiling mounted (fixings included) or free standing and is simple to install.

Two Philips actinic 15W ultraviolet tubes are used inside the unit. It also has an easy to remove front cover giving easy access for replacing the glueboard and tubes.

The unit is environmentally friendly as flies and other light sensitive flying insects are attracted to the ultraviolet bulbs, this means that there are no chemicals to use, it is pollution free and it is harmless to humans and pets.
Specifications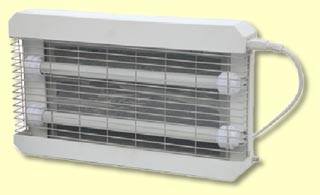 Coverage: Up to 80 sqm
Shipping Weight: 12 pounds
UV tubes: Philips Actinic (2 tubes included)
Power Requirements: 240vAC
Compliance: CE listed
Robust construction
Simple glue board technology
Flexible and easy installation
Easy cleaning and service
Replacement UV tubes and glue boards are available separately
Dimensions: 52cm x 38cm x 10cm
Applications
Pests: Flies, Sandflies, Insects
Uses: Food and meat processing facilities, cafes, restaurants, homes, patios (covered), garages, sheds, warehouses and more.
Package includes
1x UV Light Fly Trap
2x Philips Actinic UV tubes
1x Glue board
Wall or ceiling fixings
Power cord
Product Manual
Accessories (available separately)
Philips Actinic 15W Replacement UV tubes
Replacement glue board, 3-pack
Downloads