Catch stray cats, small dogs and other wild animal pests safely and humanely with our TrapMon® 1092 Easy-Set® collapsible live animal cage trap. TrapMon® live capture traps are monitored 24/7 via smart phone, internet and email. We have TrapMon® traps available that can catch anything from a tiny rat to a cat or small dog.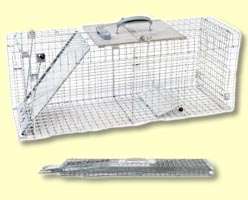 How It Works
Each TrapMon® trap is equipped with a door sensor and a communication box with battery. The communication box is the heart of the trap and contains a patent-pending wireless transmitter with built-in GPS receiver. The communication box connects the trap with the TrapMon® monitoring center via the cellphone network. When the door closes the trap sends an instant alarm via SMS text and email. All TrapMon® traps are galvanized for long life, maximum resistance to rust, corrosion and wear.
Humane trapping: Receive instant alarm and catch notifications via cellphone and email.
Convenient online access via Internet to check trap status and location.
Trap tracing: Built-in GPS allows easy trap finding, planing and location mapping.
Improved catch rates: Fast response times and longer up times.
Cost-effective: Improved processes and workflow save time and reduce travel and labour costs.
Solid spring-loaded door and handle guard ensure consumer protection while transporting the animal.
Patented Easy-Set® mechanism allows to set the trap and release trapped animals with one hand.
Specifications
The TrapMon® 1092 live animal cage trap has been designed to provide many years of reliable service. It is made of galvanized wire mesh with steel reinforcements. The trap is collapsible, easy to store and pops up in seconds!
TrapMon® 1092, large trap: 32 x 10 x 12 inch ( 81.3 x 25.4 x 30.5 cm )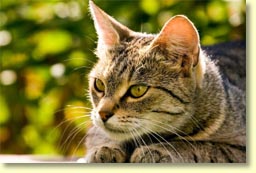 Constant trap monitoring via smart phone, email and online web-access.
Instant alarm and catch notification via SMS and email.
Location tracking and location information via built-in GPS.
Collapsible 'Space Saver' design: Pops up in seconds; folds for space-saving storage.
Easy to set: Trap sets with one hand.
Easy to release: Lever opens trap door and animal is set free.
Safe: Set and release mechansim is located on top of trap limiting interaction with animal.
No assembly required.
Animal Safe: No sharp surfaces.
Proven design: Tested and used by professional trappers.
Applications
Pest and nuisance animals: Perfect for catching stray cats, small dogs and other animals.
Uses: Use in gardens, yards, farm fields, garages, basements, camp sites, warehouses, commercial facilities, food establishments, homes and offices, kitchens, boats, sheds and others.
Release/ Relocation of Captured Animals
To ensure safe and humane trapping of wild animals, choose the appropriate size trap for the animal and check the trap often.
To calm trapped animals, cover the entire trap and limit human contact.
Check with your local or state Game Commission to determine the lawful method of disposing of a captured wild or nuisance animal.
Caution: DO NOT ATTEMPT TO HANDLE CAPTURED ANIMALS. DO NOT LEAVE CHILDREN UNATTENDED NEAR A CAPTURED ANIMAL.
Package includes
1x TrapMon 1092 Trap
1x Communication box with wireless transmitter
3 months TrapMon data pack (RRP $29.90 inc GST per month)
1x 9V Alkaline battery