Quadblaster QB-4 blasts pests out with ultrasonic sounds that humans can't hear.
How It Works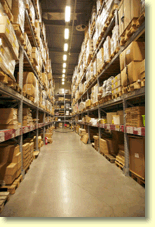 The new QB-4 uses solid-state electronic circuitry to produce harsh, but harmless, ultra high frequency (UHF) sound waves. These sound waves are targeted at overhead pest and rodent infestations. The emitted frequencies are above the human hearing range, so most people are not even aware of them.
Four powerful piezo ceramic speakers, placed 90 degree from each other, produce a dispersion of overlapping "fans" of sound for full 360 degrees coverage. The QB-4 ultrasonic pest animal repeller may be regulated to maximize effectiveness. Speakers may function at a constant 20 kHz, modulate between 20 and 30 kHz at different speeds (producing a "warble") or in a combination mode which alternates constant and "warble" output in 12 second bursts. The speakers can also be "sequenced" (in rotating order) at speeds from 10 to 110 rpm.
Specifications
IRRITATING AND INTIMIDATING. The irritating sound waves produced by the QB-4 ultrasonic pest repeller will not harm the animals, but will attack them aggressively in any enclosed or semi-enclosed area. The adjustable variations in pitch and sequencing make it difficult for the pests to acclimate to any constant sound pattern.
EASY INSTALLATION. There's no "top" or "bottom" to the unit, so it can be mounted in any direction - on any plane - with screws, nails, wires or adhesives. The QB-4 plugs into any convenient AC outlet and uses less current than a 10 watt light bulb.
ENVIRONMENTALLY FRIENDLY. Does not harm the birds, rodents or humans.
ACCESSORIES. Remote Extension Speakers. For unusual space configurations or areas divided by walls, use up to four remote speakers to stretch sound farther.
Applications
The Bird-X QB-4 pest repeller is designed to act as an important aid in routing animal pests from their infestations in plants, warehouses and semi-enclosed locations such as loading docks, railroad sidings, tunnels, breezeways, underpasses and storage sheds.
Package includes
Bird-X QuadBlaster QB-4 (Control unit including four speakers)
Mounting hardware
Product Manual
Accessories (optional)
Remote extension speakers
LED strobe light
Downloads

Manual
Please note: All bird control solutions prove more effective when different methods are used in combination. EasyTek offers the widest selection of environmentally-friendly, non-lethal bird proofing and animal control solutions in New Zealand. We cater to most bird pest situations and offer our clients tailor-made bird control and bird proofing solutions with guaranteed results.

Please contact us to describe your bird pest situation and let one of our professionals suggest effective solutions for you.